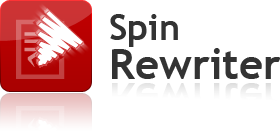 I have numerous items of PLR on my hard disk that I have acquired over a period of time.
I have now decided that I want to make use of these article but in order to do so properly I need some help.
I have decided to try out Spin Rewriter
Some of the claims made are:
it makes rewriting your articles as easy as clicking one button. (I certainly hope so).
it rewrites your articles by using its growing collection of 750,000+synonyms.
it comes with paragraph, sentence, phrase and single-word level spinning.
it actually understands the text and only suggests meaningful synonyms.
it offers bulk rewrite that lets you rewrite multiple articles with 1 click.
it gets better every day and adapts to your personal style of writing
it tells you the current uniqueness of spun versions of your article
it works on Windows, Mac OS, Linux, your phone, … everywhere!
it allows you to dominate everybody else with tons of unique content
it exports hundreds of unique articles in all popular spintax formats
With this tool it should be possible to rewrite your articles to make them more unique and therefore escape the duplication penalty.
http://www.youtube.com/watch?v=PVjrxgVa5zM